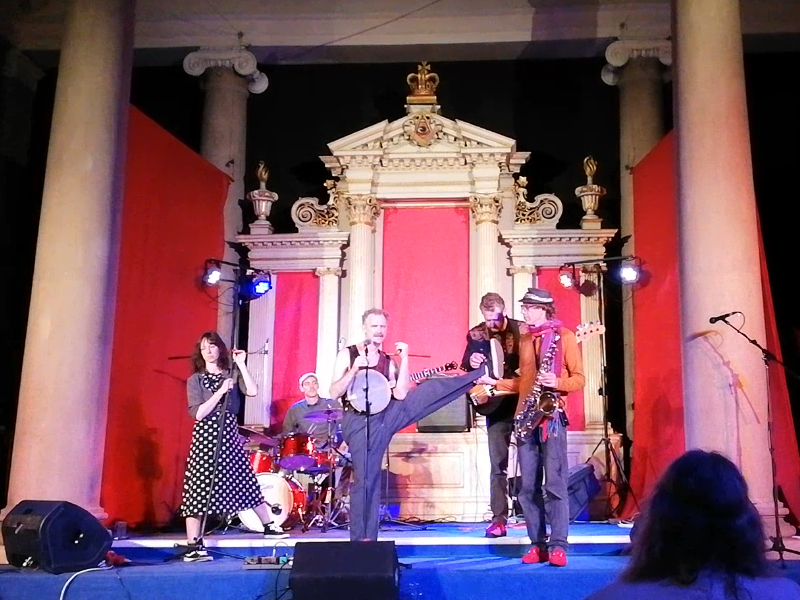 I love small venues, and one of my favourites locally is the Old Theatre Royal in Bath – very atmospheric with wonderful acoustics.  I always try to get along to a couple of gigs during their annual fringe@theOTR fortnight during the City's Fringe Festival, because they often unearth bands you don't normally see.  This year they managed to get Curtis Eller's American Circus all the way from North Carolina as part of their European Tour promoting the new album A Poison Melody
I missed this band on their previous visit to the West Country, but they came on good recommendation from friends who had seen them – and they didn't disappoint.  They describe this latest album as their most ambitious yet, augmenting indelicate rock & roll rhythms with a tempestuous cloud of horns and a graceless choir of backsliders.   And their show is certainly a bit eccentric, but in the somewhat understated manner of many American bands whose innate talent simply shows through the theatrics.
Talking to Curtis both before and after was a joy, just an understated nice guy who has a passion for American history, and particularly for exposing the injustices of it through his songwriting.  And he can certainly play the banjo – in fact the entire band is a tight unit of musicians at the top of their game, both individually and collectively.
On stage, though, Curtis changes between the rather introverted character opening the gig alone on stage apparently struggling to pull together a quiet song, and the whirling dervish reeling around with the band urging him on with driving riffs as he leaps from the stage high kicking over the head of a startled audience member.  All the while, he jangles away on his banjo, sometimes aiming the headstock skywards. at others with the frets between his legs.
The lyrics are considered and sharply-focussed: from Lenny Bruce from the latest album – a tribute to the late, great comedian who succumbed to an overdose in the 'sixties after being constantly arrested for the type of stage profanity that is de rigueur fifty years later – to Save me Joe Louis from their first album, which focusses on the final words of the first prisoner to be executed in the gas chamber in the band's home state.
But the finale was the highlight of the evening.  It wasn't a large crowd – the residents of my home town are always an apathetic bunch, to the point where they still regularly miss a musical treat.  So to finish, the band picked-up their instruments and carried them down into the body of the Hall to play a simple acoustic number Busby Berkeley Funeral all sat on chairs – except for Curtis, who stood on his.
Hopefully they will come back some time – if they do then don't miss this complete delight of a musical evening!
---
To see what's available from Curtis Eller's American Circus on Spotify, click the logo below:

If you want to download or stream any of the recent albums by Curtis Eller's American Circus, links are provided in the following table:
| | | | |
| --- | --- | --- | --- |
| | Album | Download | Stream |
| | A Poison Melody | | |
| | How to Make it in Hollywood | | |
| | Wirewalkers & Assassins | | |
| | The Bipeds - 54 Strange Words | | |