As the old saying goes – '… and this is where the story really begins'.  Such was 1978 – the year our family expanded with the arrival of our eldest daughter in October.  Meaning the year was spent first preparing for the event, then adjusting to it, plus working out how the budgets would be met on the one income.  So music-wise, just enough purchases to compile a top-ten, but all of quality topped-out by Blondie's Parallel Lines.
My mainstream work was still patchy, so the car sideline became more important in keeping the wolf from the door.  However, disappearing for hours on end at weekends to maintain other peoples' cars at their own houses would not work once the little one had arrived, so it had to morph into something else. Which is how I started buying, restoring and selling classic cars, as I could stay home and work on them in my own garage.  So the van grew to Transit-size in order to tow a low loader trailer, and provide the additional centre seat up front for our new addition's carry-cot when we went out on scouting missions for four-wheeled acquisitions.
On one such scouting mission, I went to see an old Humber described on the phone as driveable, which it may have been had there not been a tree growing up through it.  As was often the case back then, the vendor had plenty more dotted around his smallholding, and right at the back of a chicken shed was what looked like a giant Morris Minor with a huge long nose.  Once all the boxes and other paraphernalia were cleared off it and it was pulled into the open, a somewhat rare 25-year-old Morris Six was revealed with one previous owner, low mileage and in remarkably good condition except for paintwork that had suffered badly from the atmosphere of the building.  The straight-six engine wouldn't run, but that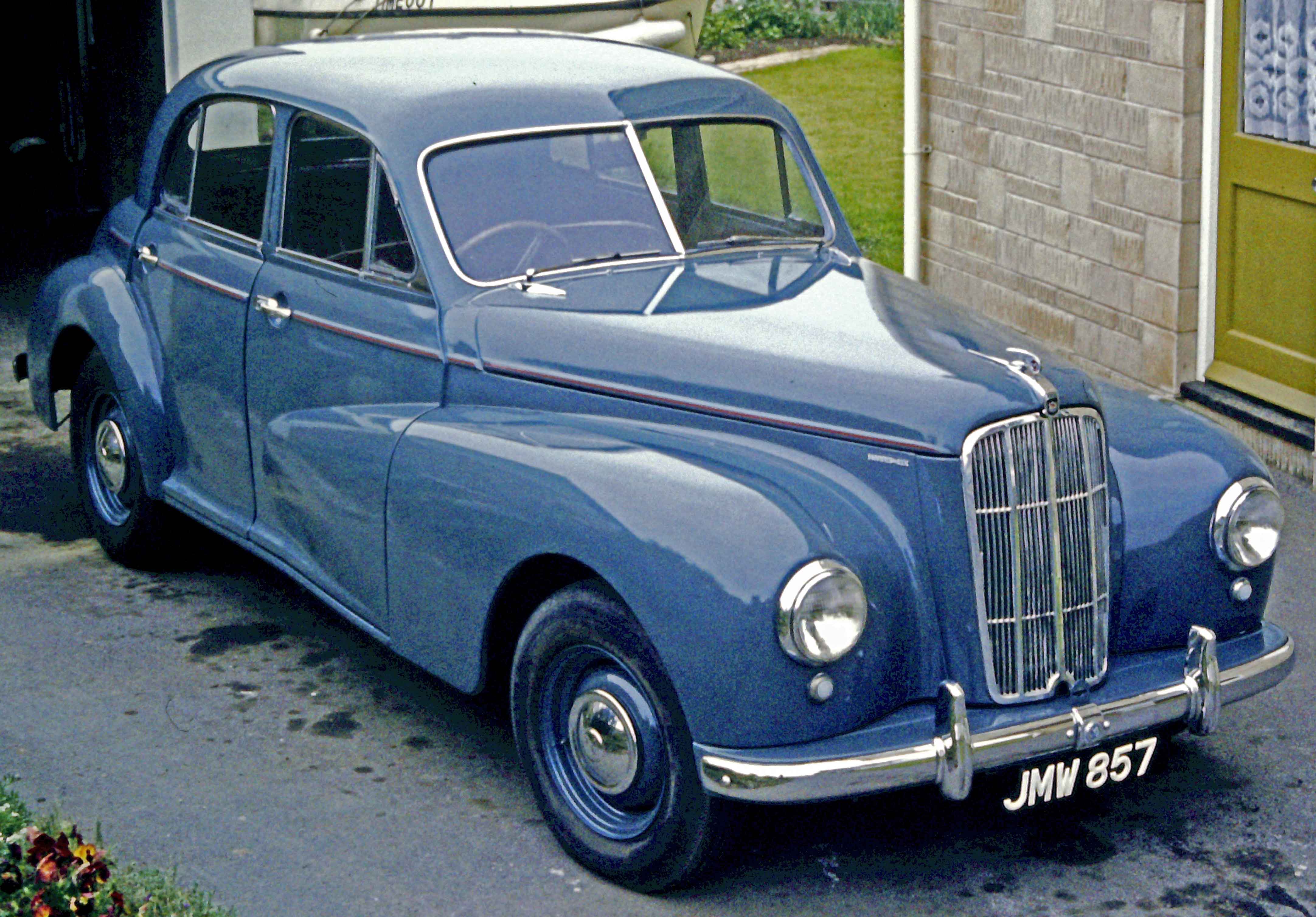 wasn't really an issue as it helped the haggling which, once completed, saw it winched onto the trailer and heading for home. My wife's initial reaction when it arrived there in barn-find condition is not really printable here.
A thorough cleaning and a few days 'tinkering' later, it was heading for its first MoT in many years, which it sailed through.  A couple more weeks in the paint shop, and this gleaming classic rolled into our drive to an entirely different reaction.  A month later it was our new daughter's special transport home from the hospital, cementing 'Uncle Mort', as he was christened, as another member of our growing family for the next twenty years – during which time, as well as the outings to car shows together, our kids went for many imaginary journeys in him in the garage, dwarfed by the massive steering wheel.
Working in the garage was enhanced by the acquisition of a decent boombox alongside a pile of cassettes recorded on my home system. This was still a Music Centre, but had also been upgraded from the faithful old Sanyo to an Aiwa unit which was genuinely Hi-Fi, and incorporated a full-Dolby recorder, so every new vinyl album could be replicated on top quality tape – sometimes more than once if it was good enough to be needed in the car as well.  One such album with multiple copies was Parallel Lines.
It was Blondie's third album, recorded and released just seven months after their second, Plastic Letters, due to a change of record label.  They had been reduced to a four-piece by their original bassist leaving during the recording of Plastic Letters, leaving Debbie Harry on lead vocals, Chris Stein on lead guitar, Jimmy Destri on keyboards and drummer Clem Burke.  For this album they added Frank Infante on rhythm and Nigel Harrison on bass creating what is considered the 'classic line-up'.   There was also a change of producer to the highly-successful Mike Chapman, who had racked up a string of hit singles over the previous seven or eight years.
Chapman recalls the sessions for this album being quite fraught initially, as he tried to polish the sound of a band who were still pretty raw, despite having been together several years.  Debbie Harry was particularly critical of his methods, until she began to hear the initial results – particularly the first rushes for what would be their breakthrough single Heart of Glass which won her over completely.   In all, the album produced six hit singles, including two number ones, and stayed in the UK album chart for over two years, including four weeks in the top spot.
This is a great album for all manner of upbeat scenarios – from a summer barbecue on the beach to driving (legally of course) in the fast lane.  Gone is the underlying artiness of their previous albums, and with barely a track exceeding the 'three-minute pop song' template, this feels more like a conversion to a classy evolution of punk sprinkled with a touch of pop stardust.  Right from the opening bars of Hanging on the Telephone, a cover of a track from a short-lived West Coast band called The Nerves, you are left in no doubt that this album is going to pick you up and make you feel good.  The pace continues with One Way or Another and track three Picture This completes the opening trio of upbeat singles, the latter two co-written by Debbie Harry.
To be honest track four, Fade Away and Radiate, is probably the track I least like as it has always felt out of place on here, a bit of a Chris Stein nod back to those arthouse roots like some form of comfort blanket just in case the rest of the album didn't work.  But the pace quickly returns with the poppy Pretty Baby before side one quickly concludes with the more edgy I Know but I Don't Know written by Frank Infante and driven along by the underlying bass riffs.
Side Two opens with Jimmy Destri's 11:59 which has a somewhat fatalistic theme underpinned by a constant drumbeat, and this is followed by Will Anything Happen? which maintains the pace, but this time through insistent basslines.   This second contribution from The Nerves' songwriter Jack Lee has a somewhat 'whatever' tone about it, while echoing the musical notation of the album's opening track. Track nine Sunday Girl is written by Chris Stein, but is a complete contrast to his previous track as it is pure pop and of no great surprise that it became a number one single.
As was the next track, Heart of Glass, undoubtedly the standout track on the album and still as fresh as a daisy over forty years later.  Track eleven is another cover, this time of Buddy Holly's I'm Gonna Love You Too but with a more punky underbeat and, in a way, a perfect way to follow such a standout track because, at just over two minutes, you barely notice it.  The final track, Just Go Away, is a solo-writing effort from Debbie Harry and a break-up song that is probably the fitting ending for an album that suggests it has attitude from an arty band who have recently discovered rebellion – as if they're saying, that's it: now you can **** off.  But in a rather stylish way.
So there you have it, twelve tracks totalling barely forty minutes, fitting perfectly together and filling every second with a degree of memorabilia that makes them stand the test of time to appeal not only over the past couple of generations, but to the next few as well.  Definitely a classic.
As I said at the beginning, there were only enough purchases for a top ten this year, and the rest of that list was Genesis' And Then There Were Three, Joe Walsh But Seriously Folks, Dire Straits' eponymous debut album, Boston's Don't Look Back, The Kick Inside Kate Bush's debut, Elton John's A Single Man, Jeff Wayne's War of the Worlds, Approved by the Motors the second album by the very underrated band The Motors and Gerry Rafferty's City to City.  The top three were Parallel Lines, The Kick Inside and War of the Worlds and, as you can imagine, the final top choice went right down to the wire.
Would I change this album of the year?  Well, The Kick Inside was an amazing debut but I play it very little now – much less than later albums of hers; ditto Dire Straits.  Joe Walsh's second solo album still gets regular outings, and War of the Worlds remains a firm favourite – mainly thanks to the SACD 5:1 mix issued about 15 years ago.   But Parallel Lines remains as fresh now as it was over 40 years ago, in fact if it were released for the first time tomorrow it would go straight to number one.   So no, I wouldn't change this one either.
---
If you want to download or stream any of the top three albums, or some of the others, here are the links:
| | | | | |
| --- | --- | --- | --- | --- |
| | Artist | Title | Download | Stream |
| | Blondie | Parallel Lines | | |
| | Kate Bush | The Kick Inside | | |
| | Jeff Wayne | War of the Worlds | | |
| | Dire Straits | Dire Straits | | |
| | Joe Walsh | But Seriously Folks | | |
| | The Motors | Approved by the Motors | | |
I have also compiled a playlist containing fifty of the best tracks from 1978.  To stream the playlist on Spotify, click the logo below: