The Old Grey Whistle Test proved to be an influence on this year's choice as well, as that was where I first encountered John Martyn playing tracks from his latest album Solid Air . It was quite an extraordinary performance, in particular his use of Echoplex, a tape system similar to the digital loopers that artists like KT Tunstall and Ed Sheeran use regularly today.  But this was 45 years ago!
In September 1973 Kathy and I were married, and we embarked on our life together with a honeymoon including seven days in Montreaux as part of a driving tour around Europe in our new Morris Marina. This was equipped with a stereo radio-cassette player, something that had only recently come on the market, feeding front door speakers.  The latter are de rigueur today but were a new innovation then as in-car entertainment systems utilised rear parcel shelf speakers that, in order to get a reasonable volume to the driver, deafened the rear seat passengers!   The door speakers also greatly enhanced the bass, as they used the whole door as a sound box – sound insulation not being a great priority with British car manufacturers of the time.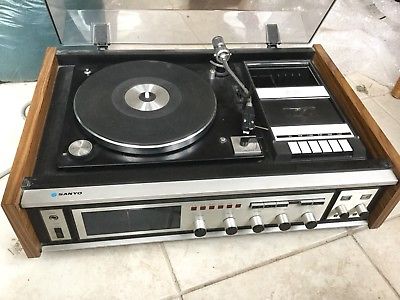 For our 2,500 mile, two week odyssey through Belgium, Luxembourg, France, Switzerland and Germany we were accompanied by virtually our entire record collection, transposed onto cassette tape courtesy of another piece of 'tech' I had acquired the previous year ready for our new home – a Sanyo 'Stereo Music Centre'.  This was a combined record deck, cassette deck and radio in one unit.  There were two models available, one with a rather limp 10 watts per channel output and another, somewhat more expensive, with 30 watts per channel; however, the latter also included a much higher-grade pick-up cartridge, FM Radio and (most importantly) a headphone socket.  The choice was a no-brainer, and the higher-spec model became my very first Hi-Fi.  The built-in cassette auto-taping facility enabled every vinyl purchase to be duplicated for playing in the car as well.
It was just as well that we had the tapes, as we had never previously encountered mainstream European radio.  By the time we had traversed less than fifty miles of France attempting to find a radio station that contained anything other than serious-sounding chat, or music by Charles Aznavour, we decided not to bother with the radio at all.  The 'playlist' was very democratic, as we took it in turns to choose an album, so Motown was followed by Prog, Pink Floyd with Eddie Floyd.   Through that trip, several albums became joint choices, one of which was Solid Air.
All of the tracks were written by Iain David McGeachy, aka John Martyn, apart from one very different arrangement of a pre-war Delta Blues track by Skip James.  Side One opens with the title track, a moody late-nighter with a somewhat dark undertones that, as revealed through later interviews, transpired to have been an appeal to his close friend Nick Drake to change his lifestyle, albeit unsuccessfully.  This was a very unusual choice for an opener, at that time, as most record companies demanded something upbeat.  Track two Over the Hill immediately provided that lift as well as revealing Martyn's folk roots with some cheerful mandolin highlights.   The next track, Don't Want to Know, returns to the late night feel courtesy of Martyn's classic vocal style, somewhere between mild inebriation and light snooze, plus some jazzy electric piano a la Ray Manzarek.   Side one concludes with I'd Rather be the Devil, the cover of Skip James' Devil Got my Woman mentioned earlier, although you would barely recognise it underneath the wailing vocals, echoplexed bass and percussive guitar.
Side two also opens quietly with Go Down Easy, which is a love song in anyone's book, even if it wasn't meant to be.  Track two, Dreams by the Sea, follows a similar style to the final track on side one, but with more powerful vocals and this is followed by perhaps the most enticing track on the album, May You Never – which is a straightforward folk song that is memorable not just musically but in the kindness and sentiment of the lyrics which, for all his external brusque bravado, is really what John Martyn was all about.   This translates into a whimsical story track, The Man in the Station, before the album concludes with Easy Blues, a straightforward blues jam.
In 2007, John Martyn embarked on a tour which featured this album played in full and uncut, and we were lucky enough to get tickets for one of the gigs at The Royal Albert Hall.  He played in a wheelchair throughout, due to having had his right leg amputated a couple of years earlier, but his performance throughout was still mesmerising, and his sense of humour was undimmed despite clearly not being in the best of health.  He died eighteen months later.
What he left behind was a unique back catalogue of albums, of which this is most fans' favourite.  It wasn't a commercial success at the time but, judging by the number of people I have spoken to over the intervening years who rate it among their favourites of all time, it must have been in the long run.  As for the 'critics', well it was well-received at the time, and over that intervening time has picked-up adjectives like 'groundbreaking', 'genre-blending' and 'timeless' – the latter being undoubtedly the most accurate. It is therefore no surprise to find it rated by Q Magazine as 67th Greatest British Album of all time.
1973 was an epic year for albums, hence it became the first year that I selected a Top Three.  And what a shortlist to choose from:  Pink Floyd's Dark Side of the Moon, Mike Oldfield's Tubular Bells, Band on the Run by Wings, Genesis' Selling England by the Pound, Elton John's Don't Shoot Me, I'm the Piano Player AND Goodbye Yellow Brick Road, Aladdin Sane from David Bowie as well as an album of covers entitled Pin-Ups, Joe Walsh's The Smoker You Drink, the Player You Get, The Isley Brothers going all rocky with 3+3, The Who's Quadrophenia, plus debuts from Leo Sayer with Silverbird and the eponymous first album from Queen.  On the soul side, there was a one-off collaboration from Diana Ross and Marvyn Gaye, unsurprisingly titled Diana & Marvyn, plus the latter's solo release Let's Get it On, as well as Stevie Wonder's Inner Visions and Barry White's second album Stone Gon.
Looking at my notes, I didn't acquire Quadrophenia until very late in the year, but read next year's page to find out why it features then.   I was also very disappointed with Dark Side of the Moon, and it probably took me 25 years to really get into that album, the surround sound mix on SACD finally revealing what I had been missing.  I also wasn't too keen on Aladdin Sane either, still much preferring 1971's Hunky Dory.  Silverbird came very close, as did 3+3 which I still play regularly today, along with the 2004 reconstruction version Taken to the Next Phase.
In the end the top three boiled down to Solid Air, Tubular Bells and the double-album Yellow Brick Road.   The latter wasn't released until October, although it made an immediate impact;  but as the weeks went by, I found myself playing the first record more than the second.  As many are now discovering, listening to vinyl is different to CD or streaming, because you have to physically turn the record over halfway through, or put the second disc on.  It was not unusual, therefore, to have a favoured side and that was the case with the first side of Tubular Bells, which is so much stronger than the second.   Solid Air, then as now, never suffers from such favouritism.
So would any of this eminent list of classic albums supplant Solid Air?  Once again it's a solid no, as it is not only a classic in its own right, it would easily be another candidate for any all-time top ten.
---
If you want to download or stream any of the top three albums, here are the links:
| | | | | |
| --- | --- | --- | --- | --- |
| | Artist | Title | Download | Stream |
| | John Martyn | Solid Air | | |
| | Mike Oldfield | Tubular Bells | | |
| | Elton John | Goodbye Yellow Brick Road | | |
I have also compiled a playlist containing fifty of the best tracks from 1973.  To stream the playlist on Spotify, click the logo below: