It has always amazed me over the years how many dedicated Who fans, that I have discussed this album with, had no idea that Who's Next started life as the next so-called 'rock opera' after Tommy, and that, had the record company not called time on recording, would have been called Lifehouse.
At the time it was released I was still working at Filton on Concorde, although I had found myself unfortunately carless for a few months.  So the daily round of leaving home before 6am to walk two miles to the train station and catch the first train to the centre of Bristol that arrived in barely enough time to run the gauntlet of finding a bus empty enough to get on for the hour's grind through the suburbs.  This would eventually deposit me close enough to the factory gate to (usually) run the last mile to my office on the other side of the airfield so I would be at my desk by 8.30am.   The only difference with the return journey, starting at 5pm, was that the buses were even more full, and the trains back to Bath only ran every hour after 6.30pm, so miss that one and it would be nearly 9pm before I got home to a warmed-up dinner and a look of disdain from my mother.
So sometimes it made more sense to stay over in Bristol – in fact I also started evening classes in Business Studies at the local polytechnic to fill-in the time – and through all of that I met up with a few guys with a similar interest in music, plus record collections and Hi Fi Systems to match.  One was well into The Doors, a group whose albums had passed me by until he introduced me to them, and I remember him being devastated by the news of Jim Morrison's death shortly after the release of LA Woman – an album that became a real favourite of mine as well.
1971 was also the first year of the Glastonbury Festival, although it was billed as the Pilton Festival back then.  In fact I knew nothing about it until afterwards, when a couple of mates told me a few days later about seeing an amazing list of bands perform in a field just thirty miles from my home – for free!   Not that I could have gone, I still wasn't allowed to drive and was normally too knackered most weekends to do much else than sleep-in until lunch-time.   So I bought more and more cassettes, one of which was this Who album, that I played a lot – it would not be the last time that their music formed the backdrop to a difficult period of my life.
All of the tracks, bar one, are written by Pete Townshend.  Side One opens with the synth intro to Baba O'Reilly, and it is difficult to relate how something now so familiar through its use as a TV intro could sound so utterly different to anything previously experienced.   Track two is Bargain, which starts with a short acoustic intro before Keith Moon's drums announce that it is actually a pure Who rocker, which leads into the short track Love ain't for Keeping.  Track four My Wife was written and sung by bassist John Entwhistle ably underwritten by Moonie's drumming, forming a counterpoint to the quite introspective intro to the final track on this side, sung by Pete Townshend, The Song is Over which builds nicely to another fabulous bit of virtuoso drumming at the end.
Side two is more dominated by Roger Daltrey's vocals.  It starts slowly with Getting in Tune which also features some superb bass lines by John Entwhistle.   This leads to Going Mobile, sung by Pete Townshend over an initially-acoustic accompaniment that barely conceals the incredible artistry of both members of the rhythm section when in full flow.  Track three is the quite plaintive Behind Blue Eyes which allows John Entwhistle's bass to provide most of the support until it warms up towards the end. The final track is the tour de force of Won't Get Fooled Again, which takes the synth intro of the opening track to an entirely new level and, again, it is difficult to ask those to whom it is now so familiar to imagine what that sounded like on first hearing – but you can try.   And that's without even mentioning the profound message contained in the lyrics, which is just as relevant all these years later.
Would I change it?  Well, there were quite a few other albums released in that year that bear serious consideration, some of which are now accepted classics : LA Woman by the Doors, Hunky Dory from David Bowie, Rod Stewart's Every Picture Tells a Story, Tapestry by Carole King, Fragile by Yes, Led Zeppelin IV,  Meddle by Pink Floyd, Jethro Tull's Aqualung, Moody Blues' Every Good Boy Deserves Favour, Nick Drake Bryter Layter, Joni Mitchell Blue, Black Sabbath's Masters of Reality and Teaser & the Firecat by Cat Stevens.   And whereas such a list from some years did not all arrive in the collection until later, I certainly bought all but one of those during the year in question, and I still play all of them today – albeit occasionally. But whereas boiling those down to a top ten would be a severe test, it is only this album that would appear in an all-time top ten, were I ever brave enough to attempt one.
As mentioned at the beginning of this page, Who's Next evolved from an abortive double-album project conceived in 1970 by Pete Townshend based on music being the fundamental basis of life, which he named Lifehouse.   Towards the end of the 20th Century, he began talking more about it and how he felt frustrated it had never been finished, for example Let's See Action and Who Are You? were written for this album, but as recording wasn't finished when the record label decided to release what they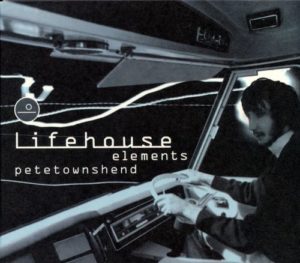 had as this album, they weren't used on it.  The former was subsequently released as a single later in 1971, and the latter as the title track of the Who's final studio album in 1978. Other tracks from the project were added to two compilation albums, 1974's Odds n Sods and Hooligans released in 1981.
He finally saw a culmination of the project when a radio play of it was broadcast on BBC Radio Three in 1999 featuring, as the soundtrack, the music originally envisaged.   From this, Pete Townshend created a limited-edition 6CD box set entitled Lifehouse Chronicles that was released in 2000, plus a single CD distillation entitled Lifehouse Elements.  The former is now highly sought-after by collectors (and hence ludicrously-expensive), but the latter is definitely worth searching-out.  This was all followed by a VH-1 TV special in their Storytellers series, in which he performs essentially the 'Elements' tracks acoustically, intermixed with spoken explanations. This was released on DvD and, again, if you haven't seen it, I highly recommend you give it a go – although it's not the easiest disk to find.
I suppose the final, and obvious, question is: if the double-album had been finished as a full 'rock-opera' follow-up to Tommy, would it have been as good, or as successful?   Somehow I doubt it, because some of the 'extra' material that features on Lifehouse Chronicles is a bit tedious.  Pete Townshend himself frankly admits that he was not in the best place mentally at the time of the original recording sessions, and was essentially writing it 'on the fly' – in fact it was his breakdown in the middle of recording that ultimately forced the record label into releasing what they had 'in the can'.
So, in effect, this album is a musical car crash – but what a glorious accident that turned out to be!
---
If you want to download or stream this album, here are the links:
| | | | | |
| --- | --- | --- | --- | --- |
| | Artist | Title | Download | Stream |
| | The Who | Who's Next | | |
I have also compiled a playlist containing fifty of the best tracks from 1971.  To stream the playlist on Spotify, click the logo below: