1965 was the year I definitely became a Mod.  No Lambretta was involved at this stage, I had to wait another year or so for that until I was old enough to get a licence.  Neither was it just the sharp fashion and the haircut, both of which had me constantly in trouble with my headmaster at school who saw button-down collars as a symbol of revolution! It was the music.
We weren't badly-served with live music, we had a chart band at The Pavillion most Monday nights; unfortunately, the 'sixties were a lot more strict than today, so for initial teenage years the problem was coming-up with new and believable reasons for not being home doing homework.  A good circle of friends to be in cahoots with was useful, and it helped not having a telephone, as stories were not as easily validated as they are today.
Later teenage years, and extra part-time jobs to pay for it all, brought relaxation in the house rules, so the occasional midweek night at one of the new clubs in the City centre was also within compass.  Clubs like Ten-Sixty-Six, tucked down a dark alleyway behind the newspaper printing works, who – in amongst the chart stuff -, played singles by black artists on labels like Chess, Stax, Volt and Blue Beat that were never heard on mainstream radio. If Wessex Records were able to get stock, they were more often than not cleaned out by the DJs or older kids who worked full-time and could get there before school got out on delivery day.  As for albums from those artists, they were never seen this far west of the capital.
However, some US albums were getting here, although importers were catering primarily to the safer clean-cut/older market with compilations from Jim Reeves, Andy Williams, Roy Orbison and Gene Pitney; even Elvis was now considered 'mainstream', with only Bob Dylan's output seen as some form of 'protest'.  However, for the first half  of this year Dylan was still essentially a folk-singer, as this was before the infamous 'Judas' moment at Manchester's Free Trade Hall, so he was not really the type of thing I was listening to.
But one album was from a different type of American band.  The Byrds were, essentially, the first true reaction from the other side of the pond to The British Invasion.  Their first single got to number one in the US in June, then here a month later, helped by a number of TV appearances here with Roger McGuinn jangling away on his 12-string guitar in some really cool 'shades.   By the time their debut album got here in August, co-inciding with the release of their second single, it had become a must-purchase.
Side one opened with the title track (and first single) Mr Tambourine Man, and was the first of four Bob Dylan covers.   Looking back, one wonders whether this may have been a spark to his 'conversion' from acoustic because, if you listen to his original version, it's in very stark in contrast.    However that aspect, along with the musical backgrounds of the group members, definitely puts this album right at the genesis of Folk Rock.
Track two, I'll Feel a Whole Lot Better, is the first original composition, and in Beatles' style. Like most of the Byrds' original material, it was written by Gene Clark, who was the one at the back with the tambourine most of the time, although he did play rhythm guitar on some tracks.    Track three is another Dylan cover Spanish Harlem Incident which is little changed from the original except for the hint of Beach Boys in the opening riff.  The next two tracks are originals: You Won't Have to Cry was co-written with lead singer Roger McGuinn and is pure Beatles, whereas Here Without You although still with a clear Beatles influence has hints of later tracks yet to come, like Eight Miles High, so starting to suggest that they were capable of departing from their pseudo-Mersey sound.
The final track on side one, The Bells of Rhymney, is a cover of Pete Seeger's traditional folk song based on a Welsh poem and (despite the delightfully-American pronunciation of Rhymney) probably the strongest indication that this was a different musical genre in the making.  It has much stronger harmonies coming from the rest of the band, in particular poncho-clad David Crosby – soon to be of Crosby, Stills & Nash – whose rhythm guitar also underpins McGuinn's jangly 12-string to much greater effect.
Side Two opener, All I Really Want to Do, was the second single and another Dylan cover. However, this time there is a definite departure from the writer's influence in the arrangement, making this much stronger than the title track.  This track seemed to be on jukeboxes everywhere at the time, yet somehow it didn't make number one in our singles chart.   The next two tracks are Clark originals, once again with strong Beatles influence, particularly I Knew I'd Want You which even has a good sprinkling of 'Oh Yeah's' in the lyrics.  It's No Use, again co-written with Roger McGuinn, is also a throwback to the Cavern of a couple of years earlier with plenty of Chuck Berry influence in the riffs.
Don't Doubt Yourself, Babe is a cover of a Jackie De Shannon track, and features a strong Bo Diddely-style backing riff very similar to the 'Stones version of 'Not Fade Away'.  This is followed by the last Dylan cover, Chimes of Freedom, which is probably closest to the writer's original style, and features David Crosby on vocals.   The final track is the old standard, We'll Meet Again, and only begged the question "why?".  It achieved some notoriety when it was used at the end of the film 'Dr Strangelove' but, it has to be said, I thought it was a terrible track then and time has not changed my mind.   In fact, it would probably have been an even better album if the last two tracks were left off.
So would I replace it?   Well, again, I only acquired two other albums that year, once more both by The Beatles – Help! and Rubber Soul.   The latter of those two is a really good album, but was released just before Christmas, so to get it I had to put it on my Christmas present list and actually received it too late to feature in my 'deliberations' for that year, if you could even call them that.  Had it arrived earlier, I think it would have topped the Byrds easily.  But there is another album that I did not buy until several years later which would have beaten both.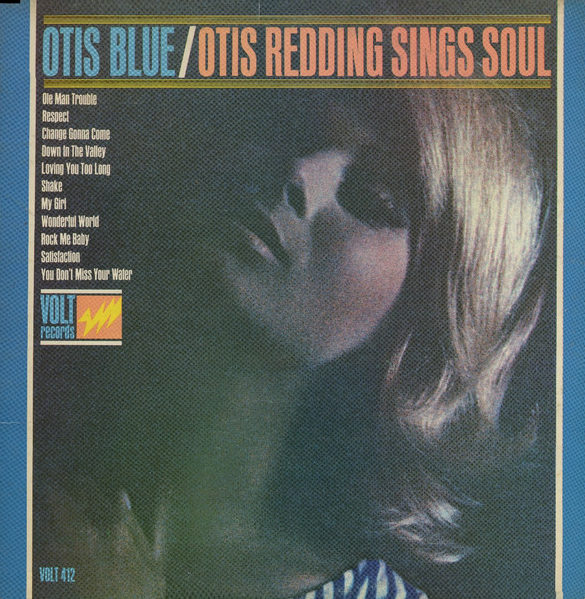 It's difficult to relate that provincial record shops in the mid-'sixties were not what we remember from the 'seventies and 'eighties.  Yes there was a rack of albums, but they were tucked away in the corner next to the listening booths.  Singles were where the money was made, and the main rack was behind the counter with literally thousands of seven-inch records in it.  So, the stock investment in relatively-expensive albums had to be very selective and, as I said earlier, albums by black artists did not feature in those racks at all. Had they done so, one would undoubtedly have been Otis Blue.
This is a mixture of his own compositions and covers of Sam Cooke, The 'Stones, BB King, Smokey Robinson and more.  The familiar singles are on there, Respect,  Shake and Satisfaction, heard regularly at clubs both then and now, but also I've Been Lovin' You Too Long, My Girl, Change Gonna Come and even more.  It's a timeless album from an amazing artist who left us way too early, and is still played regularly because of that.
---
If you want to download or stream either of these albums, here are the links:
| | | | | |
| --- | --- | --- | --- | --- |
| | Artist | Title | Download | Stream |
| | The Byrds | Mr Tambourine Man | | |
| | Otis Redding | Otis Blue | | |
I have also compiled a playlist containing fifty of the best tracks from 1965.  To stream the playlist on Spotify, click the logo below: