When it came to reviewing my Album of the Year 2017 , I concluded that it has been an average year overall for the music industry.  No blockbuster albums (unless you count the ginger-haired phenomenon with the tiny guitar, of which more later), no major new artists, just a year of business as usual in the mainstream.  Which has meant more time to explore the margins, and to unearth some little gems from their hiding places.
For those of you new to this, the 55th, annual wander through my contemporary musical experiences, I have selected a personal album of the year ever since I started buying vinyl in the early 1960s.  For the featured albums, the self-imposed criteria are that I must have a copy in my collection that has been purchased during the year, the album's UK release date has to be in the year being reviewed, and the list can contain no compilations or live albums.  Other than that, it's pretty-much open-house.   During the 'seventies, this singular personal choice evolved into a small-circulation printed newsletter on some of the year's releases for selected friends, including a top-three, through a wider-circulation email in the 'nineties that contained a top ten, to ultimately, in 2006, this annual blog.   
It has been a busy year taking in gigs, mainly locally.  Early in the year we saw Michael Kiwanuka at the Colston Hall who performed a flawless set including tracks from both albums, and a few weeks later a tribute band Rumours of Fleetwood Mac.  Now, I'm not much into tribute acts, but this one is truly outstanding – primarily because the same personnel cover both eras of the band.  They started with an introductory video from Mick Fleetwood himself, then launched into a run through of tracks from the Rumours to Tango in the Night era, with a lead singer who sounded so eerily like Stevie Nicks that I was convinced she was miming for a couple of the tracks – she wasn't.  Then after the break the male part of the band went back to the Peter Green era with flawless performances of tracks like Green Manalishi, Oh Well, Albatross et al.  Before finishing off with the best of those two amazing seventies albums.  Definitely worth catching if you're a Mac fan.
Another memorable evening was at the Festival Hall in October, where we saw Taunton's finest – Joss Stone.  The premise of this gig was her appearance in a special tribute to Burt Bacharach last year, where she performed so impressively that they asked her back to do something similar, a series of laid back ballads backed by a small orchestra instead of her own impressive band.  Which she did, for the first few tracks anyway.  Then she started going through her soul repertoire, but still using the same backing arrangement who seemed to be enjoying the experience as much as she obviously was.  The crowd were on their feet singing along in full voice, dancing in the aisles, one or two even made it to the stage, including a ten-year-old who was so good that Joss waved away security to allow her to finish the song with her inspired new companion.  It was difficult to believe, watching this highly-accomplished soul singer in full flow, and whose first album I bought way back in 2004, that she has only just turned thirty.   She has had more than her fair share of knocks over those years, both from social media and some  of the so-called 'professional' critics who seem unable to write an unbiased review regardless of how good or bad an album or gig is.   Which is a real shame, because I believe that what I wrote all that time ago about that first album is still true – she is a potentially a true superstar.
Also at the Colston Hall we saw Rhiannon Giddens and local Bristol band This is the Kit – more on both of these later.   But the highlight of the year there was way back in January when we saw St Paul & the Broken Bones, who you may remember featured in last year's top ten.   The gig had originally been arranged at a converted church in St Pauls, but when the 250 tickets sold out in seconds and the box office continued to be inundated with enquiries weeks after, it was switched to the Colston Hall which also sold-out the 3,000 capacity in no time.  And they were as impressive as we all expected, even allowing for their over-enthusiastic soundman who unfortunately wound-up the volume more than a tad too far.
But the highlight of my live gig year was their support band, a Canadian trio called The Harpoonist & the Axe Murderer.   From their name one might have expected grunge, grime or even post-punk;  what we got was blues of the highest order, and all originally written by the band, who are actually a duo – Shawn Hall (The Harpoonist) who is the lead singer and harmonica player extraordinaire, and Matt Rogers (The Axe Murderer) who plays everything else, guitar & pedal drums (at the same time) plus cymbals when necessary using the guitar headstock!  When he's not playing guitar he's on the keyboards instead.  The third person on stage was backing vocalist Dawn Pemberton, who is herself a bit of a soul/gospel legend back in Vancouver where they all hail from.  Click here to see a video of them on stage.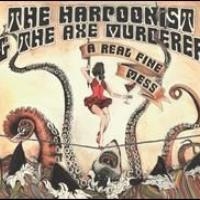 The result was a tour de force of blues music without a single BB King riff or Claptonesque guitar solo, and where the singer never ever "woke up this mornin".   So good that when it finished I immediately went to the foyer and bought their latest album, which was A Real Fine Mess from 2014, and is this year's One That Got Away. Because it is the one album that has been on the player all year long and, had it not been three years old, would have been my album of the year by a country mile.  You may have to dig around the web to find this one, but there is also a new album, called Apocalipstick, which was released in March just a few weeks after we saw them, and was on sale when we went to see them again (it must be forty years since I have seen a band twice in the same year) in September at the Louisiana in Bristol – a small 120 capacity all-standing venue.  The small venue, if anything, enhanced the experience, and the only thing that stopped me buying the new album was that I decided to wait until this one begins to wane – although I don't see that happening too soon.
Disappointment of the year was Ed Sheeran, and his new album whose tracks seemed to occupy the entire singles chart for weeks on end.  I guess it's the combination of downloads and streaming that produces such anomalies but, despite all the hype and airplay, I didn't hear anything new.  Thus the disappointment, because I enjoyed the last album, and I am impressed with his stage performances, so I was expecting something up a notch with this – the 'difficult third album'.  It may just be me, but there isn't anything on Divide that I haven't already heard in one of his previous tracks, so I guess I'll just have to be out of step with the rest of humanity – once again.  I'm sure Ed will be the last to worry!
Before we get to that top ten, a quick review of some that didn't quite make it.  First of all a breath of fresh air.   Among its many aspects, music has always been a medium for protest, especially among the younger generations.  However, recent years have been fairly neutral in this matter, but if ever there was a time for the more political commentary to reappear then surely it should be now?  But instead all we seem to get in the mainstream is boy bands and their sugar-coated ballads, or rap artists preoccupied with their ho's.  There are exceptions, Kate Tempest for example, but they tend to be side-lined into sub-genres that only air in the depths of night-time – although hasn't it ever been so?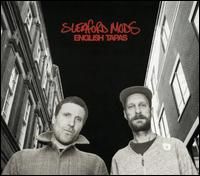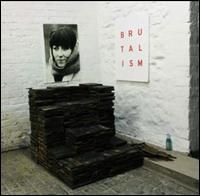 This year, however, I found two angry albums from British artists that did get some airtime as well – English Tapas by Sleaford Mods and Brutalism from Idles.  Both are described as Punk Rock bands, but that's just too simple a classification dreamt-up by lazy NME hacks.  Maybe I should invent a new genre for them – how about 'Hacked-off Punk'?  Sleaford Mods are a duo that have been around for some time in the shadows (English Tapas is their ninth album), but Brutalism is the debut from Bristol's Idles.  Neither of these albums will be to everybody's taste, but if you want to focus a bit of frustration with modern life for half an hour or so, then there are some great tracks on both – I recommend Army Nights or BHS from the former, or if its really been a bad technology day then Well Done or Stendhal Syndrome from Idles will help stop the teeth grinding.
Unkle suddenly popped-up again, as they have tended to do over the years, with a new album in September, their first in seven years, entitled The Road Part One.   It's OK, but not a patch on War Stories or Never Never Land, but perhaps I haven't had enough time to really take it in – or maybe Part Two will be better, if there is one.  Also on the electronica front, another late-in-the-year purchase was New Energy by Four Tet; a nice album to chill-out to at the end of the day, but there is also one stand-out track aptly entitled Two Thousand and Seventeen (hear it on Soundcloud here) which has a real atmosphere of a seventies-style Le Carré spy movie theme about it.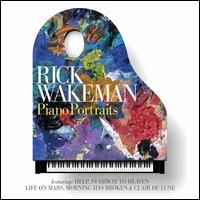 Finally, another late-night album if you want something a bit more traditional is Rick Wakeman's Piano Portraits.   I first heard about this when he was interviewed one Saturday this summer on the Danny Baker show on Radio 5.   If you haven't heard this show, I recommend it as positive way to start the weekend; it's always entertaining, and completely out of character with the station, and all the better for that!   If you can find this interview anywhere on line, it's worth half an hour of your time, because it's just hilarious; and very informative for music nuts.  For example, did you know that Rick played the piano run on the intro to T Rex's Get it On, wrote and played the fill on Cat Stevens' Morning Has Broken, as well as playing the Mellotron on Bowie's Space Oddity?   But it's more the bizarre way that some of those things came about that make the interview so enthralling.   Anyway, Piano Portraits is a mixture of some of those tracks with well-known classical tracks that will lull you to sleep in the most pleasant way, if you let it.
So now to that top ten, as usual in no particular order until we get to the top three:
I really anticipated that this album would be a front runner for Album of the Year, even before it came out in January, with the title track and Wolves being particularly strong singles released last year.  Rag n' Bone Man started as a rapper, but his voice is way too good for that genre, and thankfully someone persuaded him to sing instead.  But somehow this album does not deliver that promise and, in all honesty, a lot of the album is quite samey. Nevertheless, a good listen.
Another late-year purchase, this one does make an impression right from the get-go in particular tracks like Los Ageless and New York.  However, as yet, it hasn't had the time to make the same lasting impression as her 2014 eponymous album, but that was a 'grower' so maybe this one will be as well.  The album cover has to be the best of the year though.
Bonobo – Migration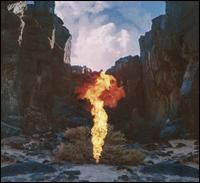 One of several electronica albums I bought this year, this one is quite laid back, and has hints of African rhythms amongst the samples used.  Bonobo, aka Simon Green, is a British DJ who is now based on the West Coast of America.   In his notes for this, his fifth, album, the DJ said that Migration to him shows "how one person will take an influence from one part of the world and move with that influence to effect another part of the world."  Standout tracks are Kerala and Bambro Koyo Granda the latter of which, along with the album itself, have been nominated for Grammys at next January's ceremony.
The second of six albums in this year's top ten by female singer-songwriters, Semper Femina is Laura Marling's sixth album, and the first to be nominated for a Grammy – also in January's ceremony.  In totality, it isn't quite as good as 2011's A Creature I Once Knew, but there are still some great tracks on this one, in particular the stand-out Soothing
Jesca Hoop – Memories are Now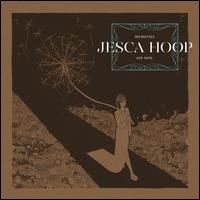 Being the first time I had encountered this Californian singer-songwriter, I was surprised to find this is her fourth studio album, and that her early career was as a nanny to Tom Waits' children.  It was he who promoted her early career with an American record label.  Unfortunately, they dropped her a few months after her first album release, but she was persuaded to move to the UK by Elbow's tour manager, a band she has played support for, and she is now based in Manchester.  I suppose you could call this a folksy album, and the track The Lost Sky would definitely fit that genre.  But there is a little more to this album than that, and in particular the title track and Cut Connection have a harder edge to them.
LP – Lost on You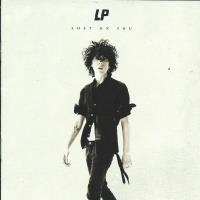 LP is the stage name of New York born Laura Pergolizzi.  She is primarily a songwriter, having written hits for Rhianna, Christina Aguilera and Backstreet Boys, among others, but has never really broken through in her own right, possibly because of several partings of the ways with previous labels over the classic 'musical differences'.  Even this album, only her fourth solo effort in fifteen years, took nearly two years to materialise in full, even though the title track had gone to the top of the singles charts in France, Belgium, Greece and Poland as long ago as 2015.  She didn't seem to be gathering much momentum here until she took a last-minute slot on Jools in April when another artist fell ill, and her performances blew us all away.   This had obviously taken her record company by surprise, as the album had not been released in the UK, but with European-issue copies changing hands at premium prices, it didn't take them long to rush it out.   It is an album of poppy-rock songs, most of which have instant hooks, that sound as good as her live performances, and is well worth a listen.
Rhiannon Giddens – Freedom Highway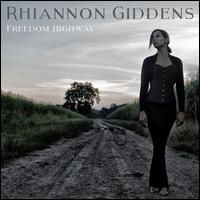 You may remember that Rhiannon Giddens was one of the performers on the excellent New Basement Tapes album, my 'one that got away' in 2015.  If you bought that album, you would know that she wrote and sang on two of the stand-out tracks, and this album draws from her wider roots in American folk, Cajun, Gospel and Soul music.  Having played this album quite a lot, I became aware that she was booked to perform in Bristol in November, and what a gig she put on.  Her voice, much more subtle and powerful live than on the albums, stood out as she ran through most of this album plus a few classic American folk songs that showed off her prowess on Banjo, Bluegrass Guitar and Violin as well.   This is a super album, varied in style, and is well worth a listen; if you like it, and she's coming to a venue near you, then go see her live as well.
And so to the top three in reverse order:
Sampha Sisay is from Morden in London, and this is his debut album.  I first came across him on the 2011 album by SBTRKT, so it wasn't a difficult decision to make this one of my first purchases of the year.  It has been on the player regularly throughout, and it was no surprise to me when it won the Mercury Prize in October.  It is a great album throughout, and in particular Blood on Me, Incomplete Kisses and the wonderful ballad Nobody Knows Me Like My Piano are standout tracks.
Sailor & I – The Invention of Loneliness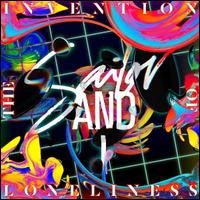 This is an intriguing album which I would classify as Indie but, when I eventually found a shop that stocked it, was filed under Dance.  So, it was no great surprise to find that the limited bio on this artist starts "Swedish singer, producer and multi-instrumentalist Alexander Sjödin doesn't fit most of the archetypes associated with electronic music."  Absolutely spot-on, and the reason why this album continues to reveal itself on every play.  Although he has produced the odd track and EP, this is his debut album, and features great tracks like Black Swann, Next to You and Chameleon.  However, picking out any track would detract from the whole, which would have been the album of the year but for:
This is the Kit – Moonshine Freeze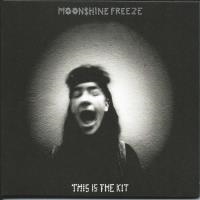 The basis behind this band is Bristol singer-songwriter Kate Stables, who is responsible for most of the writing.   Although the personnel have changed over the years (this is actually their fourth album) the credits for this one include many close friends and family members, a fact that she emphasised during her introductions when we saw them headline the Bristol Takeover Festival in October.  And that is probably what makes this such an intimate album, an album that never demands your immediate attention in the way that something like a Foo Fighters album would, but rather lets you listen to it in the background while you carry-on doing something else.  However, rather magically, you find that by the end you are just listening to it and have completely forgotten what else you were doing.  I'm not going to pick out any particular track, because they all are superb in their own way – and, more importantly, they all flow easily from one to the other.  Just put it on at the start, and drift away.
---
I have compiled a playlist containing fifty of the best tracks from albums released during 2017, including some that didn't make the shortlist from Beck, Gary Numan, Noel Gallagher's High Flying Birds, Wildwood Kin, Four Tet, The National, Tokio Myers, Sparks and Unkle.  To stream the playlist on Spotify, click the logo below:

If you want to download or stream any of the individual albums mentioned, links are provided in the following table:
| | | | | |
| --- | --- | --- | --- | --- |
| | Artist | Album | Download | Stream |
| | This is the Kit | Moonshine Freeze | | |
| | Sailor & I | The Invention of Loneliness | | |
| | Sampha | Process | | |
| | Rhiannon Giddens | Freedom Highway | | |
| | LP | Lost on You | | |
| | Jesca Hoop | Memories are Now | | |
| | Laura Marling | Semper Femina | | |
| | Bonobo | Migration | | |
| | St Vincent | Masseduction | | |
| | Rag n' Bone Man | Human | | |
| | Rick Wakeman | Piano Portraits | | |
| | Four Tet | New Energy | | |
| | Unkle | The Road Part One | | |
| | Idles | Brutalism | | |
| | Sleaford Mods | English Tapas | | |
| | The Harpoonist & the Axe Murderer | A Real Fine Mess | | |