I first came across Sam Eason a couple of months ago when he supported Scott Matthews at the Colston Hall in Bristol, and was really impressed with his short set.   So when I saw a poster for Sam Eason & Friends at this super venue, I decided to pop along last night to see how he would be as a headliner.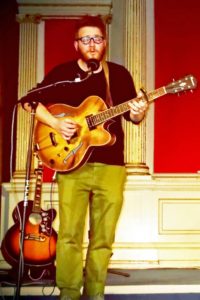 At the Colston Hall, he performed his own songs with a friendly and relaxed air.  He quickly built a good rapport with his audience, raising  a smile with his occasionally self-deprecating little links between the songs.  Armed with acoustic guitar and looper, his music is very much in tune with the current crop of singer/songwriters, with observations on life and love, told from the viewpoint of an observer who appreciates the lighter side to life.  He was joined there for the last two songs by his wife, Beth, whose harmonies fit his vocals perfectly, and it is easy to see where the inspiration for his uncomplicated love songs comes from.
He has produced three EPs since 2011, plus a digital album of demos and covers, and I bought the latest EP called Leave the Dark Low that night, the title track being the opener for his set at the Old Theatre Royal, and one well-deserving a wider audience.
Because Sam is another artist who is just a mainstream airplay away from wider acclaim – and when that airplay comes, then it will doubtless be this song.  Or perhaps it will be I Would Love from the same EP, or Cliches from an earlier one.  Which shows just how good the setlist is, made up almost entirely of self-penned material.
Main support last night was Joe Probert, a precociously-talented 17-year-old whose style is reminiscent of Paolo Nutini.  He was a bit nervous to start with, but once he settled-in the set was very good and included one song that he announced as this is one I wrote last night – and he had!
Sam Eason then performed the first half of his set solo, including Epitaph Pt II and The Peasant Poet.  He advised the audience that this was the first time he had ever headlined his own gig but, had he not mentioned this, the audience would never have known, as it was the accomplished performance of an artist comfortable with delivering his own material.   He was then joined by Len Liecthi on Mandolin for Until the Sun, and by his brother Tom for Fare Thee Well and Sail On (Summer Breeze).   The last four songs were all performed with wife Beth, finishing with the delightful Across the Sky.
The crowd roared him back for an encore, which in typically unassuming style he announced as having put together just in case they might not just say 'OK Cheers, we're off now – as if we would have!   The first was a lovely song dedicated to his Mum entitled Made Us Gold which is a simple appreciation of what parenthood is all about.  Then he was joined by Joe Probert for a rousing rendition of Mumford & Sons' Roll Away your Stone before all of the artists accompanied him to finish with the aforementioned Cliches.
This had to be one of the most captivating "first headline" gigs I have seen over the years; I am sure it will not be his last.