The problem with Arts Festivals is they are a bit like grapeshot, lots of up-and-coming performers taking their opportunity to put themselves in the limelight at small venues around a town, but ultimately competing against larger heavily-sponsored events.   Which is why, as a festival-goer, it sometimes pays to ignore the big-banger 'do' that is advertised weeks ahead on every billboard, and look instead for that potential hidden gem.  Which is how I found Matt Cook at the Bath Fringe last night.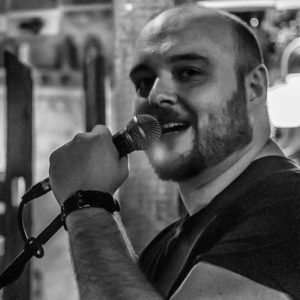 The Old Theatre Royal in Bath is another hidden gem.  It is tucked down a quiet cobbled side street behind Marks & Spencers' loading bay, so you would be lucky to stumble across it.   It is also quite an anonymous building that has been the local Masonic Hall for nearly 150 years, but originally came into being as the City's first purpose-built Theatre in 1750, becoming the inaugural home of the Theatre Royal company in 1768.  The original auditorium space, along with its superb acoustics,  still exists and is the part used for their annual series of Festival gigs.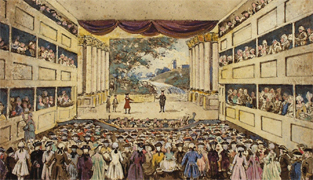 It is also an intimate space, with a capacity of around 150 in today's regulation-conscious world, so it is difficult to imagine an audience of eight-hundred-plus crushed in there 250 years ago, for performances ranging from Shakespeare tragedies to comedies by Colley Cibber, performed by many of the leading actors of the time, the most famous among them being Sarah Siddons.
But it is a space ideal for singer-songwriters, like Swansea's Matt Cook, to really show-off their talents.   And he took the opportunity brilliantly as, armed with just a guitar, a looper and his distinctive voice, he led us through over an hour of songs ranging from driving rockers to intimate and introspective observations on the human state.
The first half of the set opened with Belong to You and Release Me, two contrasting tracks from his first album Explosive, then moved on to a sequence of new songs from his next album Fallout, culminating in the title track which is a driving rocker about a band breakup.  The second half began with Matt's take on Tracey Chapman's Fast Car, then followed with a mixture of tracks from both albums, including Letting Go which has a very American FM Radio feel to it, so it is no surprise to learn from Matt that it is causing some interest in the USA, and was the reason he was recently invited to visit Jacksonville in Florida.
Although he was not allowed to give details, from the bits he was able to talk about when I chatted with him afterwards, this sounds very exciting for him.   Maybe Matt is to be the next in a long list of artists over the years who had to go 'across the pond' to make their breakthrough.
Although it seems out of character for someone who is obviously so happy-go-lucky, some of his writing is a little dark – in fact he warned us about this in his introduction to Never Left Your Life which he owned-up to writing when he was just sixteen, half the age he is now.   We were also treated to a couple of contemporary covers, Gotye's Someone That I Used to Know and Passenger's Let Her Go, before the main set finished with a rousing track from the new album It Will Rain, about the wet summer of 2013 – and quite a few other things!
The venue was under half-full, but this was more of a factor of how easy it is to miss a real nugget of a gig when panning in a stream of over twenty Fringe events that day, including gigs, street theatre, new writing and events that claim to push new frontiers.  Nevertheless, Matt was given unanimous and rousing applause resulting in a call-back for an encore.  One enthusiastic group from Switzerland I spoke to afterwards proclaimed it a memorable evening.
And I have to concur, because I have no doubt this is a name we will be hearing more of in the next couple of years – probably via America.