I cannot remember too many occasions when a harp has featured on the stage of a rock concert, except perhaps for visual effect or, during the late seventies, to provide the pretentious ending to a tedious Jon Anderson lyrical soliloquy.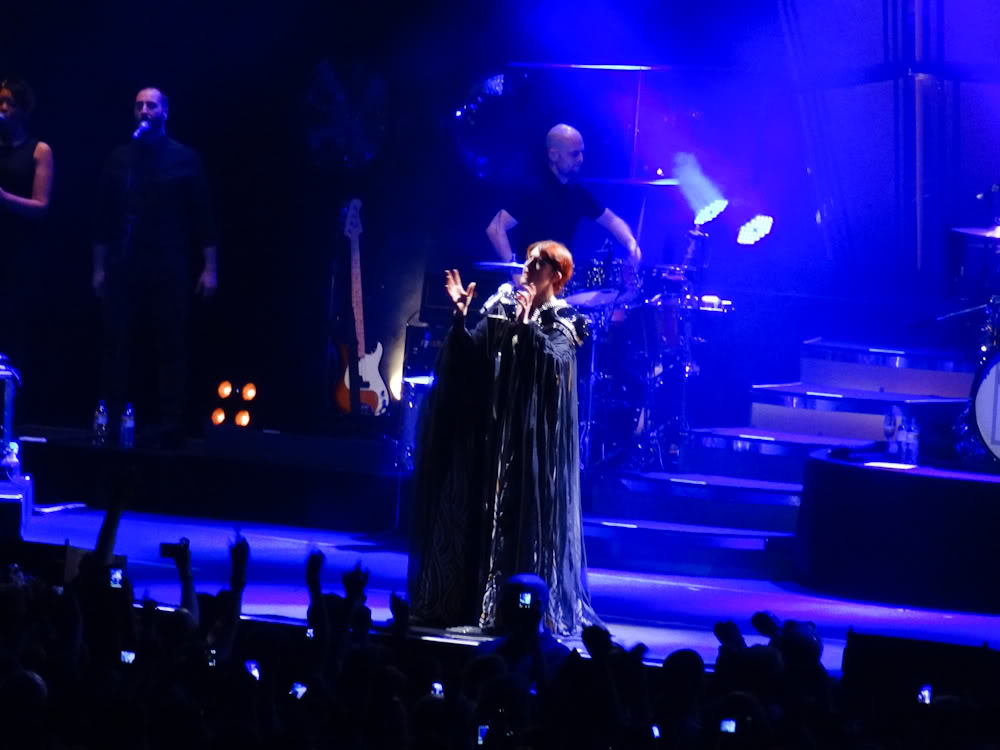 But I certainly have never seen one used as a major instrument throughout a ninety-minute set – until yesterday when, for once, a band with the word 'Machine' in their name were anything but mechanical.  Added to which Florence Welsh is not merely a vocal force of nature, she also comes over as, quite simply, a lovely person; not something you can say too often about female leads in these days of ladette culture.
The only doubt we had about going to this gig was how well that voice would come across live in possibly one of the worst venues, acoustically, in the country.  The LG Arena (ex- NEC) is not a favourite of mine; it's the wrong shape, the ceiling's too low and, despite the ostensibly exoskeletal  construction, they still managed to fill the inside of the roof with random girders instead of strategic baffling.   It has to be said, however, that the makeover from the rebranding has made the entrance foyer and communal areas much more comfortable, and welcoming; gone, thankfully, is the old NEC attitude to their customers of: 'why don't we pack all fifteen thousand of 'em in one room for more than an hour before we let 'em in and employ just two barmen to serve 'em all'.
Unfortunately, not all NEC jobsworthing has been eradicated: the parking contractors still operate a policy whereby, even if there is a car park adjacent to the building you're visiting, they will direct you to another which is a two-day camel-ride away, for which they charge eight-quid without supplying courtesy buses to ferry you to the hall, or stewards to stop the traffic on the main road to Birmingham International Station, which we all needed to cross because they had padlocked-shut the bridge that goes over it!
Things continued not to auger well when we arrived in our seats part way through the first support act's set.  Spector are a new band with a somewhat moribund songwriting style, but a powerful lead singer who could just about overcome the over-bassed mix that was reverbing all over the shop with the arena less than a third-full.  Second support were the Horrors, another newish band with a very promising first album, called 'Skying', which won album of the year at the recent NME Awards; their style holds something of early-eighties Indie bands like Joy Division and Echo & the Bunnymen, with a dash of Simple Minds thrown in.   Unfortunately, their sound man murdered the whole set by pushing all the sliders back except for the overmic'ed drum kit, something the more subtle tones of their lead singer, let alone the keyboards that feature so heavily in the better tracks, had little chance of competing with.
We needn't have worried though; from the moment that the lights went down for the main set, and the redhead in the long black cloak swept onto the stage to the strains of 'Only if For a Night' it was clear that her soundman knew exactly what was needed.  She immediately had the audience in the palm of her hand and never let them go again; not only did the voice come through bright and clear, but also that harp soared regularly above the tribal drumbeats that are such a feature of her songs.   And even though her repertoire is still only a mere two albums-worth, she had no problem in keeping-up the standard, proving that they really are two absolutely outstanding productions.
The stage set was also a thing of beauty, looking like something for a 'twenties swing band with a huge art-deco screen behind, that morphed between various Rennie Mackintosh patterns and associated deco colour schemes, complimented by stage lighting to match and contrast as necessary.  Florence herself continued with 'What the Water Gave Me' followed by two from the first album: 'Cosmic Love' and 'Between two Lungs'.
Of course, acts like Florence and The Machine attract the occasional bohemian fan, and we were 'privileged' to have behind us a somewhat well-oiled scouse lady who was determined to furnish us all with the lyrics of every song, through the medium of interpretive dance; not an activity to be recommended in the realms of row double-z.   After the first four songs, and associated additional lubrication, she gained sufficient 'confidence' to add her own counterpart to each song, in a tone somewhere between a raven and a bullfrog, sometimes simultaneously.  She was quickly advised by one gentleman in her row that she may find it easier to perform her accompaniments in a more open area towards the staircase, reserved for wheelchairs; there being no obvious methodology for getting such contraptions to that height, it was empty.  Amazingly, she gladly accepted his advice, providing the gentleman with a new minor-hero status that he basked in for the remainder of the evening.
It was at this point that Florence discarded the cloak, and went for a couple of more upbeat numbers from the new album; by the time she got back to the first album, and 'Dog Days are Over', it was audience participation time.  This was a somewhat unusual affair, with Florence bringing the accompaniment down while she instructed the audience that on a certain oft-repeated key word, they were all to jump in the air together.  What's unusual in that, you may ask?
Well, normally, such activities are confined to the mosh pit, while we more-sensible beings in the expensive seats look-on somewhat aloof, accompanied by melancholy memories of when we used to be able to do that.  Not this time, however, as we were also invited to join in – and most did.   Thankfully, the benching seemed to pass its improvised health and safety check without any problems, with the added bonus that the building itself felt like it moved a couple of inches closer to the car park, which would help on the way home.
The pace was slowed again by 'Breaking Down' followed by a couple of acoustic numbers, before bursting out into the cover of Candi Staton's 'You've got the love'; but, alas, no Brit-style Dizzy guest appearance this time.  The set finished with 'Rabbit Heart' and 'Spectrum' leaving the crowd screaming for more, which of course they got.  'Never Let Me Go' started the encore which concluded with an absolutely stonking performance of 'No Light No Light'.
It took me a long time to get into her first album, and it was a live performance on TV from one of the festivals that finally tipped me over to buying it, something I did not regret; as a result, the new album was a shoe-in for pre-ordering.  As you may have read in my most-recent annual Top Ten, despite arriving late in the year it almost made it to the top of that list; had she toured beforehand, it undoubtedly would have, because this was one of the best gigs we have been to in recent years.