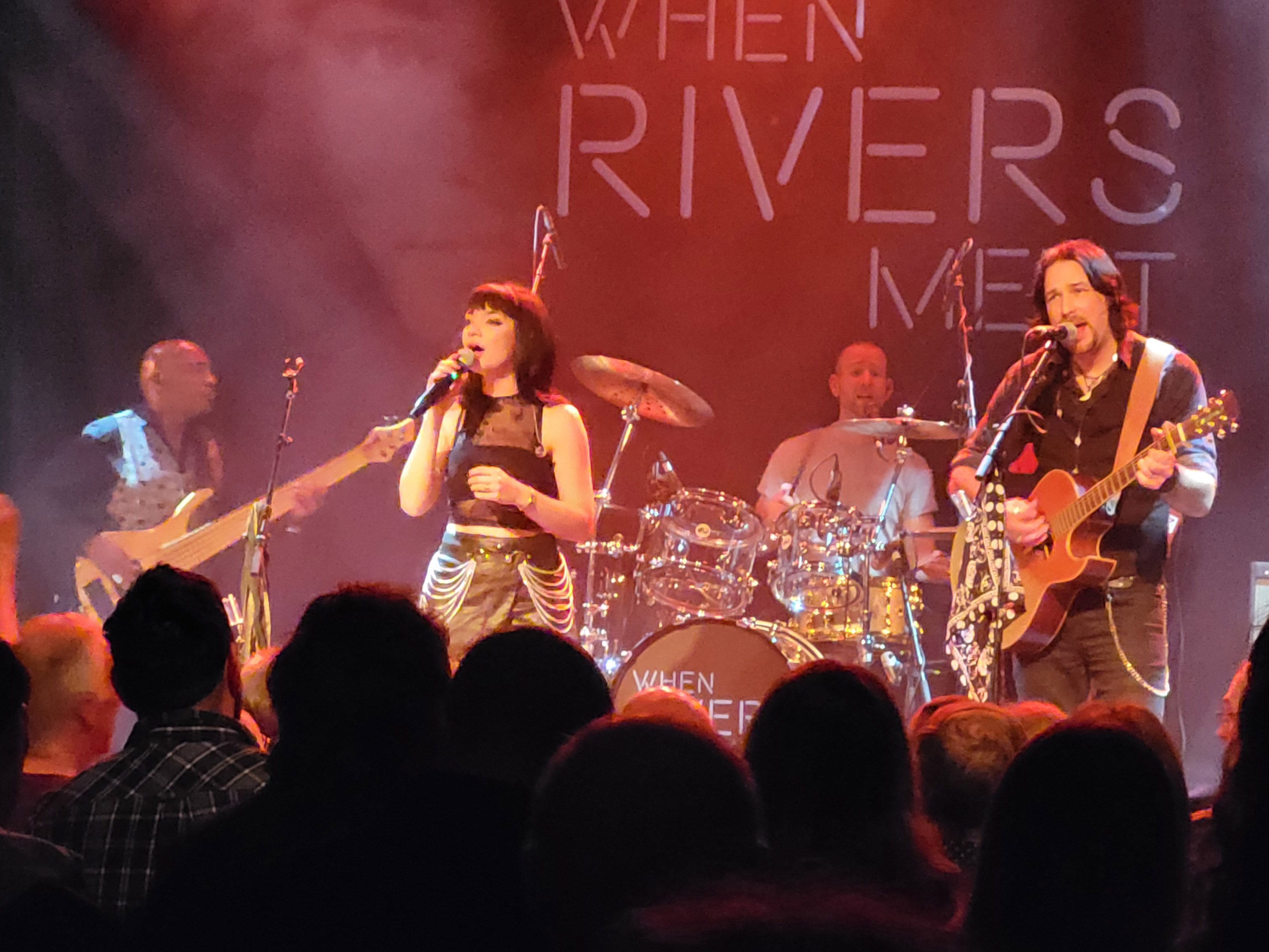 After more than two and a half years, we finally got to a live gig again to see When Rivers Meet at Bath Komedia.  Turned out it was also their first gig since the lockdowns.
This is the first time we had taken-in a gig at this local venue, but by no means the first time we had been in the building.  It used to be the Beau Nash Cinema way back in the day, and I well remember the Saturday morning matinees back in the fifties when we paid sixpence to see a Western in which the wagons were circled to fight off those pesky injuns, or the White Hats defeated the Black Hats in a shoot-out in the local corral.

Must admit, it felt a bit strange walking in at first – not because we were worried about the dreaded lurgy, just how long it had been since we had been in a room listening to live music with a group of like-minded people – particularly when our arrival didn't immediately double the average age of the crowd!   But the trepidation evaporated almost immediately as the track playing on the PA – Cream's 'Sunshine of Your Love' – brought back another memory of queueing up in 1969 to see a special late night showing of their Farewell Concert film, again in this very building.   OK, the band we saw on this night may not be Baker, Bruce and Clapton quite yet, but they certainly have some potential – and the sound quality was far better than I recall that film providing!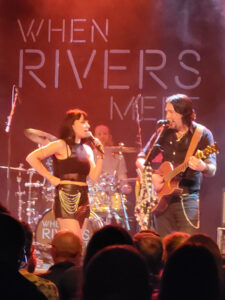 When Rivers Meet are Grace and Aaron Bond from Brightlingsea in Essex – not perhaps an absolute hotbed of blues music in the UK, but hey, it didn't stop them from scooping four 2021 UK Blues Awards including Blues Band of the Year and Blues Album of the Year.  I first encountered them when a friend sent me a link to a video of theirs during one of the lockdowns which led, almost immediately, to ordering their debut album, 'We Fly Free' from their website, and which went on to be runner-up in my 2020 One That Got Away blog.
The first two songs on the night, 'Did I Break the Law' and 'Walking on the Wire' came from that album and are great tracks for warming-up the room.  The rest of the set was a mix of other tracks from that album, and their latest 'Saving Grace' which was also acquired from the Merch Stand on the night.
Grace has a perfect blues voice, perfectly clear on slower numbers, raunchy on the stompers, and very powerful when she needs it to be; she also adds very interesting touches on some songs with either an electronic Mandolin or violin.  Aaron is a very accomplished guitarist on a wide range of instruments, but particularly the Cigarbox Guitar that features on the video below that I took on the night.
They were ably accompanied by a fine rhythm section of Adam Bowers on drums and keys (who also produces their albums) and Roger Inniss on Bass.   Roger is a very accomplished player and has appeared with numerous Blues, R&B and Jazz artists, including Chaka Khan, Steve Gibbons Band, The Climax Blues Band and Ruby Turner.  That showed through when he performed one of the best Bass solos I have seen in years, including some amazing slap-bass work.
All-in-all a great way to get back in the swing – just can't wait to find the next one.