So, the Brits 2021.  Billed as the first major live musical event without masks and social-distancing since the pandemic started, and another major step on our road to freedom.  But is this what the industry's leading lights think they should be serving up for us as normal 'entertainment' in the future?   Where to start?
It was, of course, great to see the country's first live virtual-signalling event in over a year go ahead with a crowd, even if they were specifically-selected to react positively to every loaded message thrown their way. It was also unfortunate that, of all people, that prince of wokedom Bono couldn't be there for such a prestigious celebration of the art, but he did suffer from the worst-possible handicap to getting such an invitation on this particular night – he has a dick.
It was also notable that the opening act, the only straight white male band featured, were not allowed any closer to the venue than a barge moored in the middle of the Thames river, so had to send their 'live' performance in by video.  Second-up was Dua Lipa with a medley from her latest album, but surely, if you're going to be the 'biggest winner' on the night, you really should try and perfect your lip-synch technique sufficiently for your 'live' performance to be semi-credible. There is also a rumour going around that her first acceptance speech was merely a marketing routine for her next single, a cover version of the sixties' Major Lance hit 'Um, Um, Um, Um, Um, Um.'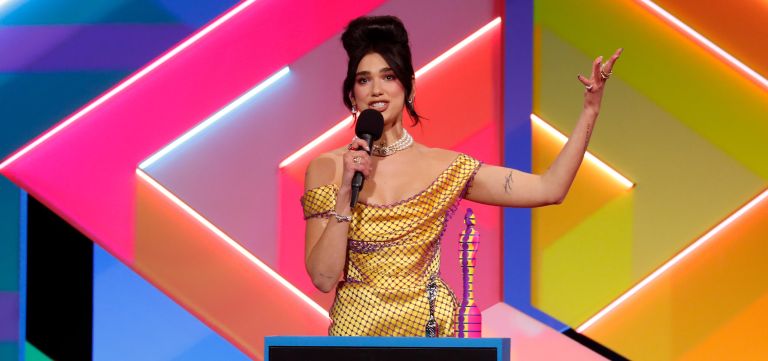 Of course, as required, the headlines today are that the winners on the night were primarily female. OK, there have been years in the past when women should have been major winners and weren't, no argument there, but the last 12-months were not such a time.  Yes, Arlo Parks is a great singer-songwriter – any R&B artist who modestly names Pink Floyd and Radiohead as her main influences is not only brave, but open-minded enough to produce some great music – and Griff's live performance blew the rest out of the water on the night. But Little Mix as 21st-century Germaine Greers?  Do me a favour!
Three out of the eleven awards had male winners, two of them Afro-Caribbean  (one 'introduced' by Michelle Obama, FFS!) the other identifying as 'fluid'.  Perhaps that's why Harry Styles was wearing themed-camouflage that almost worked as well in hiding who he actually was as the faux-yankee accent.  It has to be said, however, that his song was the best pop-single of the nominations by a country-mile, so somebody on the panel must have stuck to their guns that these awards are really about the best music in a particular genre.  One wonders, however, if the organisers are not already deep in discussion on how to allow female nominees in male categories next year.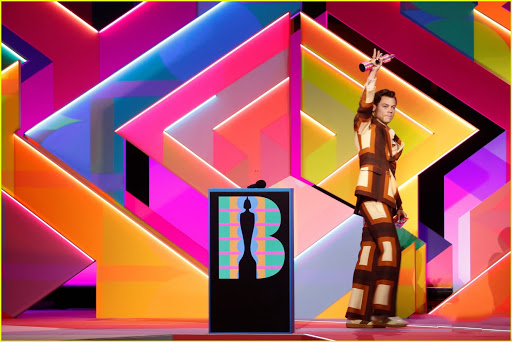 Then there was the old queen, introduced by his husband, ogling a younger version draped across his piano like a vamp, and the rapfest in which, quote, 'three of the country's leading grime artists' shouted into their microphones that "Two black Brits stand here at the Brits but still we ain't seen as British" to a background of scantilly pvc-clad dancers. Surely, on a night when female emancipation within the industry was the key watchword, 'victimhood' was displayed there through a somewhat myopic pair of blinkers?
Alright, 'circumstances' were difficult this time.  Not every artist wanted to be there, meaning the normal lavish budgets from the labels were trimmed leaving the special-effects guys to make the best they could of what was left.  And any presenter will find it difficult to engender a party atmosphere from a table for ten with just three sat at it, plus a thirty-foot exclusion zone between it and the next one that he had to occupy.  And don't even get me started on Lewis Capaldi, although, to be fair, he did relieve our misery by not singing and deliberately having most of his speech bleeped-out. Right-on Jimmy!
Nevertheless, this may not have been as bad as the Sam & Mick show but, when viewed through a more realistic lens than that of 'the music media', neither will it go down as memorable for the reason it exists.