Once upon a time, there was a bear who missed Christmas every year because he hibernated for the winter.  A hare decided this was sad, so left his sleeping friend a present of an alarm clock, which woke him on Christmas Day.  To do this, he enlisted the help of a Mr Lewis, who sold bits of Christmas to the local folk.   Mr Lewis thought it would be nice to tell the locals all about the hare's plan, and they became so interested that they twittered about it to their friends far and wide.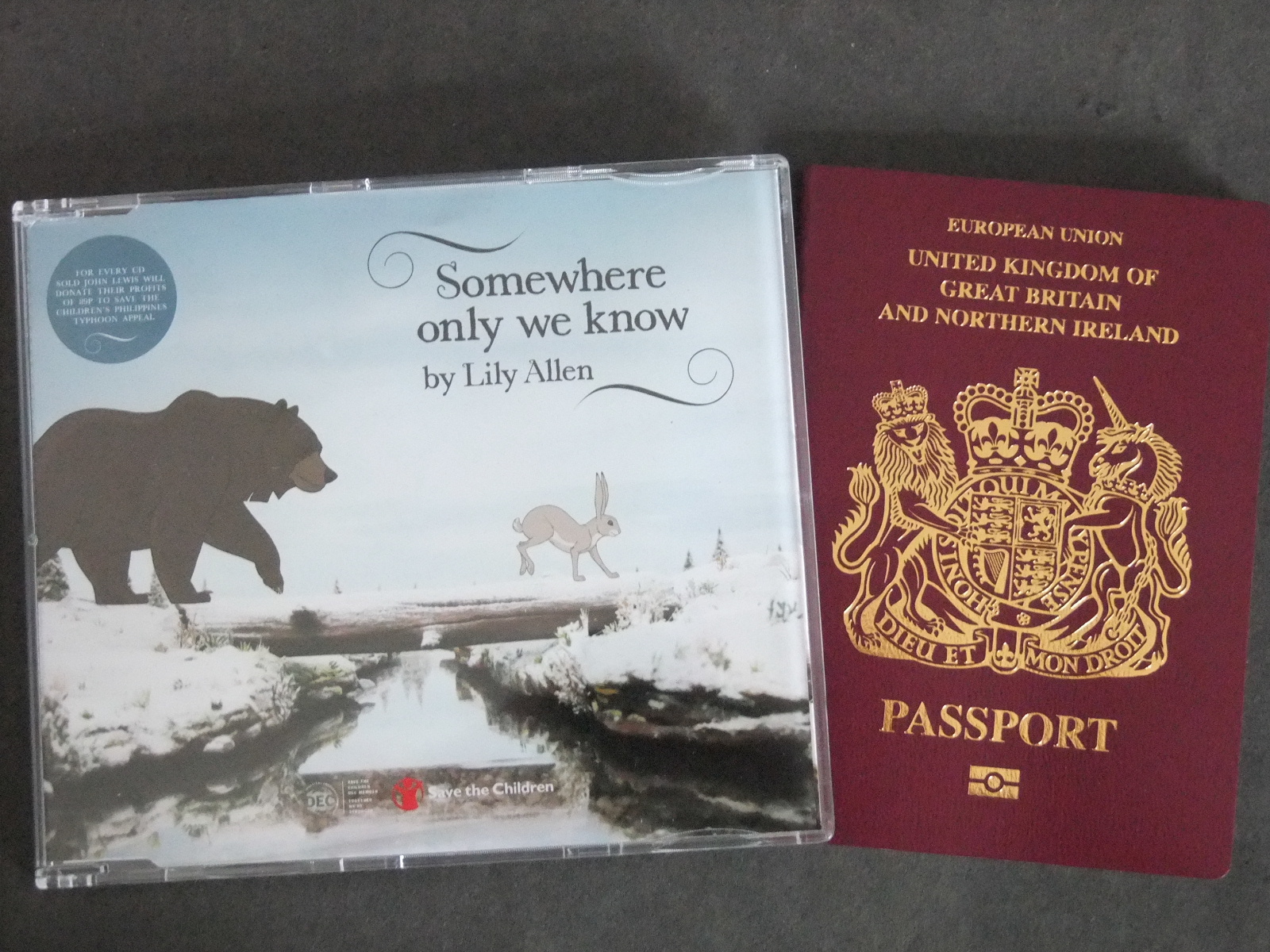 This generated so much interest that Mr Lewis' business grew and grew until he felt he just had to make a film about it and, as films have to have a title song, he enlisted the help of a famous songstress to sing it for him.  Mr Lewis played the song in his store, and it so enchanted the people who heard it that they wanted to buy their own copy.  So Mr Lewis manufactured a single that became so popular it topped the Hit Parade.   So where, you may ask, does the Passport come into this.  Well to tell you that part of the story, I need to take you far, far away, to another land – Somewhere Only Jobsworths Know.
We are all hoarders, although most of us prefer to call it collecting.  My particular treasure trove is number one singles – I have every one back to a somewhat-crackly seventy-eight of Al Martino's 'Here in My Heart', number one for nine weeks at the end of 1952; a total of more than twelve-hundred items at the last count, mainly wax 78s, vinyl 45s and CD singles.   The entire collection is physical, no MP3s allowed, so the mass-market trend in recent years to download-only singles has presented its own challenges at times, leading to the search for cast-off promo CDs issued to radio stations, limited-edition vinyl copies, or overseas issues where the market still favours discs.   But hey, collecting isn't meant to be easy, that's one of its attractions.
Another trend in recent years is the hardy-perennial marketing-hype single, aimed purely at relieving the unwary of their hard-earned cash in exchange for something that has no lasting value, financially or musically.  There are two categories of these: the reality-TV pap-single, aimed at capturing the Christmas number-one slot for the latest pop-mayfly act, and the charity single.  Neither possess much musical merit, but at least the latter does something meaningful with its earnings.  Both are relatively easy to get-ahold of, simply because they are aiming for saturation sales, but occasionally the latter present logistical problems through exclusive deals brokered with retailers.   Regardless, I need to have one for the collection, even though it will always remain in mint, unplayed condition.
John Lewis' latest effort sort-of falls into both categories.   It is part of a £7m marketing campaign, entitled 'The Bear and the Hare', aimed at getting us all to shop with them, including the most-hyped TV advert of all time, but all of the profits from sales of the single are going to the Philippines Typhoon Appeal – so top marks to the retailer for getting-into the Christmas spirit there.   Which is more than can be said for some of the tout-trolls lurking in the deeper recesses of the collectors' marketplace, who suddenly appear in on-line marketplace sites offering multiple copies of the current charity single, somehow obtained for onward sale at a huge premium.    Doubtless they will spare little thought, as they tuck-into their unethically-funded turkey on Christmas Day, for the homeless disaster-victims on the other side of the planet who could otherwise have been helped by that extra cash.
The single itself is a cover, sung by Lily Allen, of one of the finest indie-rock ballads of recent years – Keane's 'Somewhere Only We Know'.  Regulars may remember the scorn I heaped upon last year's John Lewis single, sung by Gabrielle Aplin, which was a cover of Holly Johnson's 'The Power of Love', although I gave that young singer the benefit of the doubt that her bland rendition might not have been of her choosing.  This latest corporate effort from Ms Allen confirms that it wasn't, as the arrangement is similarly bleak, meaning that this particular genre of soulless destruction of classic songwriting material is nothing other than pure floss from the retailer's marketing gurus.  The unerring success they are achieving with it will doubtless guarantee us more of the same in forthcoming years – oh joy!   But I digress.
Having located the page on the John Lewis website where I could part with my £2.99, I completed the preliminaries and moved to checkout; there I was given the choice of having my CD posted for an added fee, or collecting it from a local store for free.  As there is a Waitrose less than a mile from home, I opted for the latter.  I then paid by Paypal, and awaited the e-mail advice as to when I could collect.   Twenty-four hours later, an e-mail arrived advising that I could collect anytime after 2pm that day, and that the goods would await me for seven days.   The following day would be the most convenient arrangement, that being shopping day.  Which is where the passport comes in.
The e-mail advised that I must take a printout with me and, if I had paid by card, the card I had used.  If, however, I had paid by Paypal, then I would need to present a photo-id – only driving licence or passport being acceptable.  As I still stubbornly-cling to my dog-eared paper licence – one document containing a photo of me looking like an inmate of Alcatraz is plenty enough, thank you – there was but the one choice.  So the following day off I trudged with my bags and travel document heading, not for the airport, but for my local supermarket, where I handed the e-mail printout to one of the salesgirls.
"Do you have any identification?" she asked.  I presented her with the passport, opened at the page containing the aforementioned mugshot.   She looked at the passport, then at me, nodded and handed the passport back to me; 'oh Lord' I thought, I must actually look more like a convict than I realised.  "Wait a moment Sir," she continued, "I will get your goods for you," and off she trotted in the direction of the storeroom.   A few minutes later, she returned with a package and handed it to me, with a "there you are Sir, is there anything else I can help you with?"
"Well, yes there is," I replied, "can you tell me why you needed to see my passport?"
"It's for your security, Sir," she replied, " we wouldn't want somebody coming in to claim your goods fraudulently, now would we?"
My thoughts momentarily wandered to the scenario that might bring such an occurrence about.  Who could possibly want to steal my awful £2.99 charity-CD?  Then it dawned on me – it must be the tout-trolls!   That's how they get their stock: not by walking-into shops and buying-up armfuls, but by having someone 'on the inside' watching for on-line buyers clicking to collect, then intercepting the outgoing e-mail before radioing an accomplice to arrive at the selected Waitrose in advance of the customer.  How clever is that!?
My mind snapped back to reality.  "Of course, I replied, but how do you know that I am the right person?"  She looked puzzled at the question, so I continued: "only, you see, the e-mail I gave you doesn't contain any reference to my identity at all, just the order number.  There is no connection between that piece of paper and the contents of my passport.  I may be a tout-troll for all you know."
She, rightly, ignored the last bit: "It's what we have to do, Sir."
Of course it is – it's not for poor unsuspecting shop assistants to go against the gnarled inner-wranglings in the minds of head-office jobsworths, who are actually paid to come-up with yet more tosh-procedures that are 'looking after your security, Sir' or being 'for your own safety, Sir.'  So I smiled, thanked her and left the store with my collected-package; after all, what more could I do to protect a large multiple from being hoodwinked by the tout-troll gang that had been thwarted by my getting there ahead of them.
But be warned: they still remain, hiding in the bushes outside of the store, waiting to pounce on the next charity single to be delivered.