Back in the summer of 1969, the world's eyes were on just one thing – the moon – awaiting the first man to set foot there.  Around the same time, a haunting song began receiving airplay telling the story of a stranded astronaut, Major Tom, sitting in a tin can far above the moon and musing that planet earth is blue, and there's nothing I can do.
This was my introduction to David Bowie and, along with thousands of others, I bought the original mono single – although not enough of us did so to get it too far into the top twenty.  It eventually made the grade six years later and topped the charts as it really should have done at the time of its genesis.
By the time that belated first number one arrived in 1975, both alter-egos of Ziggy Stardust and Aladdin Sane had been and gone, and Bowie had moved on to what he termed his plastic soul phase.  So while a somewhat different promo video of Space Oddity, showing Ziggy singing it, was rounding-off that week's Top of the Pops, Bowie was on tour with a brass section squeezing-out sax-riffs for Young Americans and Fame.   But that was Bowie, always years ahead of his time.
I can't say I was an out-and-out Bowie fan, but I dipped into his music regularly over the near-fifty years that he entertained us with his eclectic mix of styles and influences.  The first album I purchased was The Man who Sold the World in 1970, and the last The Next Day a couple of years ago; neither made my shortlist for album of the year.  In fact the latter was my disappointment of the year, not because the tracks were bad, but because hidden amongst the triple-album were enough gems to make a single, stunning album.   But again, that was Bowie – the artist shunning the easy way to pursue his very personal art.
My favourite album of his is 1971's Hunky Dory – in fact I'm playing it as I write this.   It heralded his Ziggy phase, the most obvious introduction to that being Life on Mars.  But when you listen to it, you recognise other overtures:  Changes is a musical precursor for Young Americans, Oh! you Pretty Things for Ashes to Ashes,  Queen Bitch for Diamond Dogs and Andy Warhol for the Berlin albums.
If there was one thread that stands-out for me through his amazing career, it was that there always seemed to be some reference back to the subject of that first single I heard in 1969.  There was always a hint to something other-worldly either in a lyric or a track title; one of his early films was The Man who Fell to Earth, and he even titled one album Earthling as if to emphasise that he may not have been quite what he appeared.
I only got to see him live once, on the Glass Spider tour in June 1987 at Cardiff Arms Park.  The stage set featured a giant illuminated spider that towered above the silhouettes of the tenaments visible at the Castle end of the ground before it was demolshed to make way for the Millenium Stadium.  It was a great gig, made even more memorable by being one of the few I managed to get to with my, also sadly now departed, old drummer mate Nigel.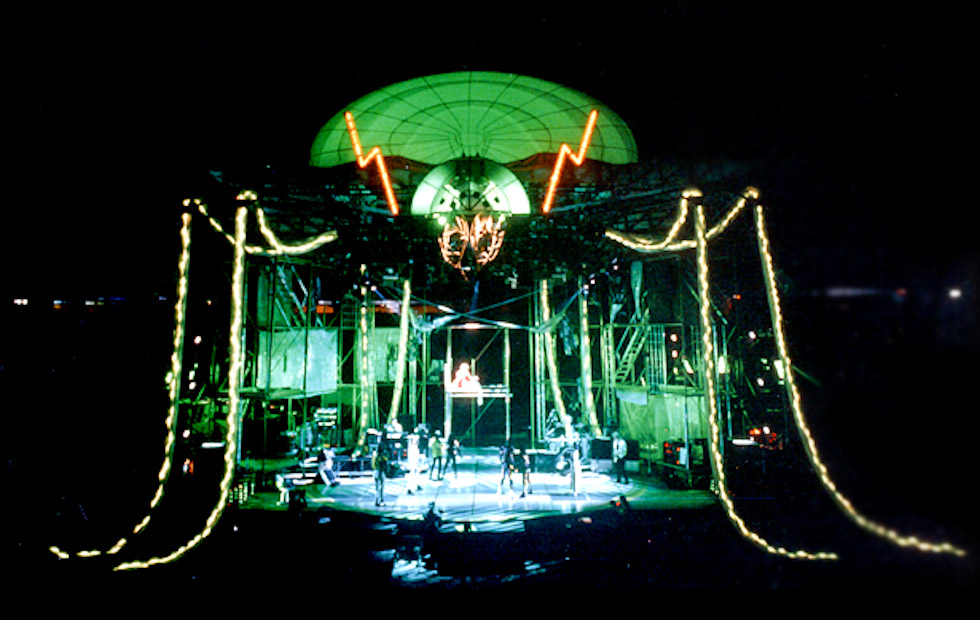 As well as the new tracks from the album it was promoting, Never Let Me Down, I don't remember any of the space-orientated songs making the set list, other than Loving the Alien. And I suppose, in music terms, that's exactly what he was – alien by his constant morphing of image within an industry that prefers to draw constantly from the same well.   Which is why he will always be loved on this planet.
Farewell Major Tom….